Jane Vanderzanden
Original Wildlife and Western Acrylic Paintings and Scratchboard Drawings
New Artwork - "Spruce Dance"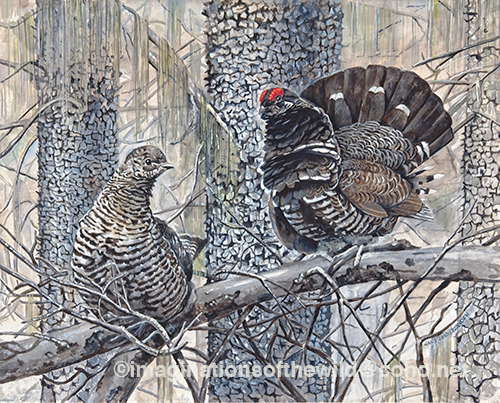 My latest acrylic painting "Spruce Dance" is based on a reference video taken of Spruce Grouse on a trip to Canada. I watched this pair dance up and down a branch. This 20" x 16" original painting and prints are available to purchase. Check out my other new paintings. Click on the "Gallery" in the top menu bar and view "New Artwork." Also, I have new paintings I am working on of duck pairs on a log, mule deer and elk.

2020/2021 UPCOMING SHOWS
NOV 6-8, 2020 – Custer Arts & Crafts Show, Pasco, WA

FEB 2021 – Sportsmen's Show - Portland, OR

MAR 2021 – Custer Arts & Crafts Show - Pasco, WA
JUL 2021 – St. Paul Rodeo Western Art Show, OR
AUG 2021 – Garlic Festival - North Plains, WA
NOV 2021 – Custer Arts & Crafts Show, Pasco, WA
New Artwork - "Back to Camp"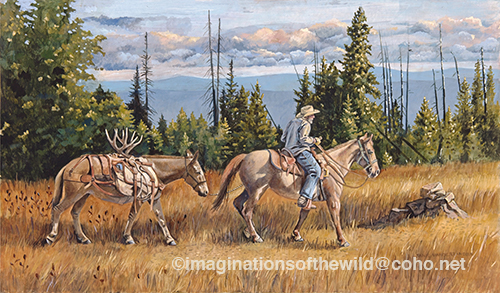 This "Back to Camp" acrylic painting is of a rider and pack mule heading back to camp at the end of the day. Purchase canvas or matted art prints of this artwork online.

Where to Purchase My Artwork

So far, my upcoming art shows are canceled. You can purchase my artwork online or call 503-330-3321 to order. You can also view and purchase my artwork at Chiloquin Two Rivers Art Gallery, 140 South 1st St., Chiloquin, OR 97624.