Jane Vanderzanden
Original Wildlife and Western Acrylic Paintings and Scratchboard Drawings
New Artwork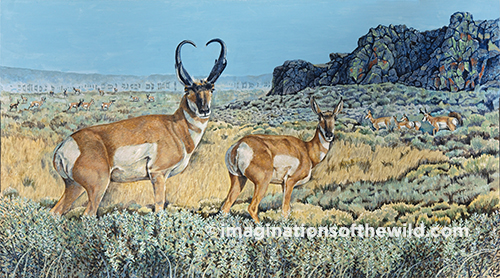 My latest acrylic painting, "Desert Hangout," is based on reference photos I took at Hart Mountain National Antelope Refuge. As I spent the day watching this herd of antelope, I was intrigued by the large number of pronghorns; their graceful movement; the details of their environment; and the mirage they created in the far distance. I included all these elements in this painting. Watch for upcoming paintings from this area.

UPCOMING SHOWS
JUN 8-9 – Art in the Park, Sisters, OR

JUL 2-6 – St. Paul Rodeo Western Art Show, OR

JUL 26-27 – Art in the Park, Richland, WA

AUG 9-11 – Garlic Festival – North Plains, OR

New Artwork - "Sun Spot"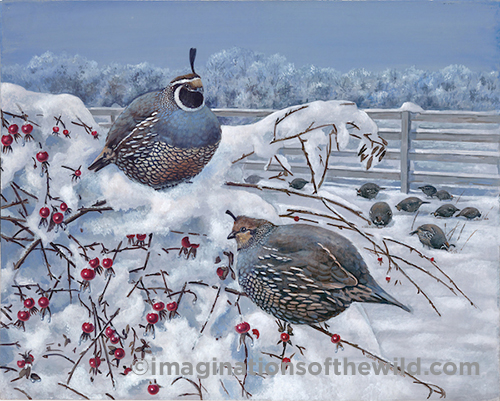 This "Sun Spot" acrylic painting of quail in the snow is the third in my quail painting series. The first was "Covey Sentinel," a painting of quail sitting on the fence in the fall. The second was "Spring Outing," a painting of a quail pair with their babies. Purchase art prints online or at my upcoming shows. Originals are also available at the art shows, galleries or call for more information and availability.
Art Gallery Displays and Summer Shows

This summer will be busy with upcoming shows. I will travel to Central Oregon, St. Paul, Richland and North Plains. See my show list for details. You can also view and purchase my artwork at the Sequoia Gallery+Studios, 126 SE 3rd Ave., Hillsboro, Oregon. In addition, my artwork and mugs are for sale at Chiloquin Two Rivers Art Gallery, 140 South 1st St., Chiloquin OR 97624.